Park Güell
tilckets is an online ticketing service provider
Park Güell Ticket

The perfect harmony between Architecture and nature.
The Park Güell, a UNESCO World Heritage Site, is one of the most emblematic works by Catalan architect Antoni Gaudí. The project's ambition was to become a luxurious "Garden City". The Park Güell was built between 1900 and 1914 under the impetus of the wealthy patron Eusebi Güell.
Located on the Carmel hill in the extreme northwest of Barcelona, Park Güell was to house 60 atypical houses and a chapel on Gaudí's initial project. Given the complexity of the project and uncontrolled construction costs, only 4 houses and the park were built. The Park became the property of the city in 1923.
Access with the Park Güell ticket.
With your Park Güell ticket, you have the possibility to use the BusGüell shuttle for your round trip free of charge.
Since 2013, in order to preserve the heritage, part of the Monumental Zone has been regulated and paid for. The Park Güell ticket gives you access to all areas.
Namely:
When you make your reservation, a time slot is defined. Attention it is important to arrive on time. You have 30 minutes, after which your Park Güell ticket will become invalid. Admission is limited to a quota of 400 visitors per 30 minutes. Once the reservation has been made, no change of date or time will be possible.
Panoramic view from the terrace.
Schedules:

Until 14.02 : 8:30 AM to 5:30 PM
15.02 > 28.03 : 8:30 AM to 6 PM
29.03 > 26.04 : 8 AM to 7:30 PM
27.04 > 23.08 :  7:30 AM to 8:30 PM
24.08 > 24.10 : 8 AM to 7:30 PM
25.10 > 31.12 : 8:30 AM to 5:30 PM
Time to expect:
Visitors' tour:
2H to 2H30.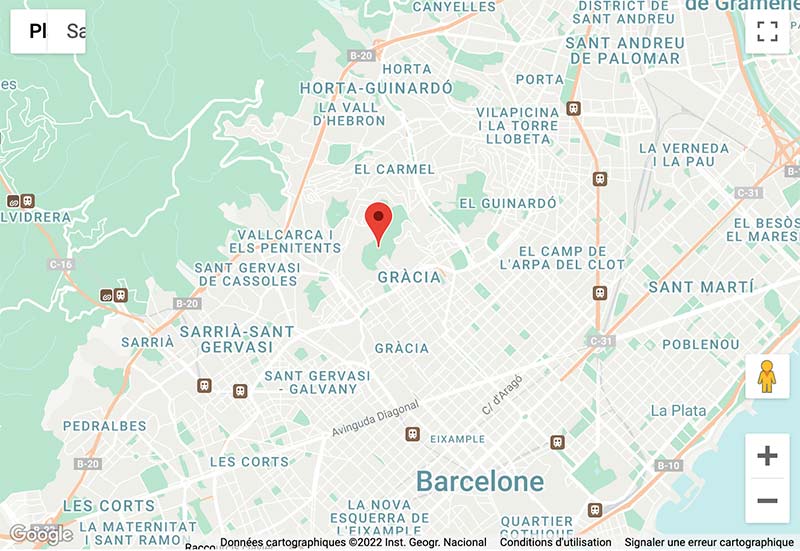 BusGüell :
Free shuttle on presentation of your Park Güell Ticket.
The BusGüell shuttle will be waiting for you at the exit of Alphons X station (see shuttle route) near the H6, V19 and V21 bus stops. The shuttle can be used for both outward and return trips.
By metro:
  L3    Station Lesseps (15 min. by walking)
  L4    Station Alphons X -> BusGüell shuttle.

By bus :
Stop of Travessera de Dalt, lines D40and H6 (bus stop itinerary).
By Touristic Bus Hop-on hop-off:
Blue Line / Stop Park Güell.
tilckets està afiliat a la plataforma de venda d'entrades Tiqets, aquest lloc no és el lloc web oficial del monument. Tiqets és un dels socis distribuïdors del monument.